Forests are being devastated as a result of the expansion of industrialization. According to Thailand's Royal Forest Department, 216,000 square meters of forest will be lost per minute, equivalent to 40 football fields. Tree loss can result in global warming, climate change, soil erosion, flooding, and a variety of other issues. Green space is undeniably essential to our survival, for it contributes significantly to the carbon cycle.
As a consequence, King Mongkut's Institute of Technology Ladkrabang (KMITL) via the Office of Physical Resources and the Environment, KMITL launched "We Grow Together", an environmental project that involves the planting of Kae-sad tree, the emblem of KMITL.
The aims are to improve the environment, raise awareness about environmental issues and increase plenty of plants. With just one tree, we can absorb about 9-15 kilograms of carbon dioxide (CO2) per year on average and contribute to the reduction of global warming.
Image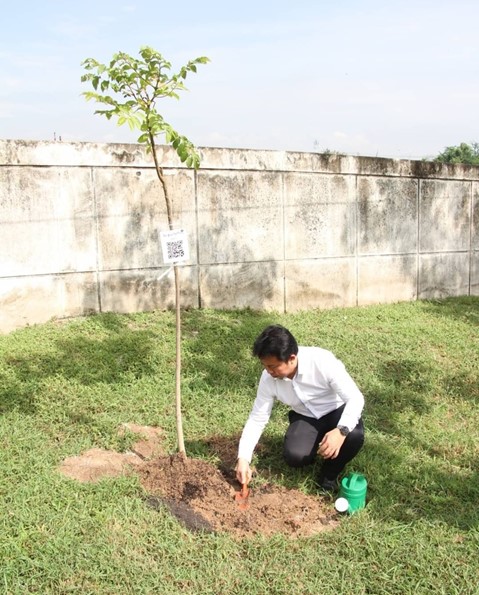 Image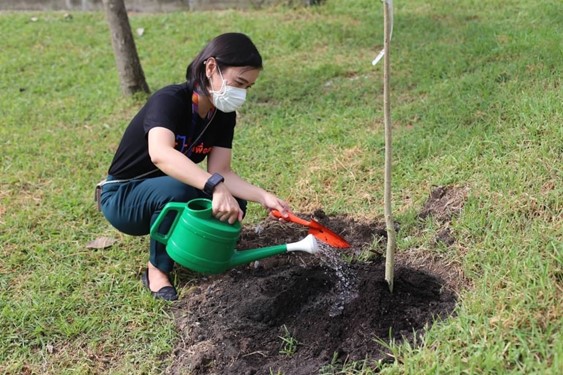 The Kae-sad tree, also known as the African Tulip Tree, is a reddish-orange trumpet-shaped flower with large, shiny leaves. It can grow to a height of 80 feet (24m.). However, growth is typically limited to 60 feet (18m.) or less, with a width of 40 feet (12m.). Birds and bats help pollinate the flowers, and the seeds are dispersed by wind and water. This plant thrives in tropical climates.
Owing to the current way of life, KMITL makes it easier for people to participate in this project. Simply scan the QR code and register to choose a tree based on its location on the map, then wait for the registration results. After that, the KMITL team will plant a total of 100 Kae-sad trees on dry land that was formerly lush around the campus.
Accordingly, we are going to reduce approximately 1.5 tonnes of CO2 per year. We can restore and maintain the land and ecosystem surrounding the institute as well as make the most of it. These are in relation to SDG 15, life on land. Also, we can improve education and raise awareness about climate change, the goal of SDG 13.3 climate action. Aside from that, the tree supplies food for insects, allowing us to expand existing ecosystems which is the target of SDG 11.4, sustainable cities and communities.
The "We Grow Together" project will increase the number of trees while also restoring dry land to usable land. These are associated with KMITL missions aimed at preserving current ecosystems and increasing plant and tree biodiversity. Lastly, global warming and deforestation directly affect our life and world, so we must act instantly to address this matter. "Together", we can make the world better than it has ever been.